POSTPONED
We are very sad to share that we have decided to postpone the 9/25/21 Mendocino County Homebrew Festival and Wildfire Safety Expo. We are working on rescheduling for spring 2022, hopefully in April or May, and will let you know as soon as a date is chosen.
Given the Covid numbers in the county, it seems like the safe and responsible thing to do.
We updated the Facebook event page with a random Saturday in May – that is NOT the confirmed date but it doesn't give the option to leave the date blank. Stay tuned with more details as soon as we have them.
Thank you for understanding. We look forward to making this happen in the spring, and we hope to see you there!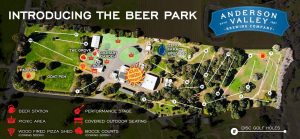 The afternoon will feature brewers from around Northern California competing to become both the people's choice and/or the brewer's choice winner. (The event is also open to ciders and other fermented beverages.) Local farm-to-table food will be available for purchase.
Proceeds from the event benefit the Mendocino County Fire Safe Council, which informs, empowers, and mobilizes county residents to survive and thrive in a wildfire-prone environment. Attendees will have the chance to talk to and learn from local first responders, pick up some fire-safe swag, and connect with neighborhood Fire Safe Councils.
People's Choice: All attendees get three bottle caps that they can use to vote for their favorite beer by dropping the caps into designated containers. Ribbons and awards will go to 1st, 2nd, & 3rd place vote earners.
Brewer's Choice: A separate tasting and judging will be conducted by professional brewers, led by Fal Allen of Anderson Valley Brewing Company, to select a top quality beer to be brewed by AVBC! The winning brewer will get to assist on brew day, learn about scaling their recipe, and use a commercial brew system.
This event is a blast – you don't want to miss it!